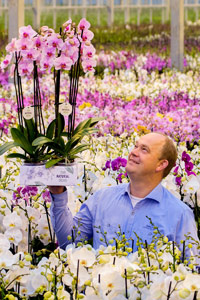 Stolk Flora
Cultivating with respect for nature
Our vision
Every grower wants to cultivate efficiently. Efficient cultivation is also at the heart of Stolk Flora. But we also cultivate responsibly and want to make the world a better place. This may sound very ambitious, and it certainly takes a great deal of dedication. Not everything that we do is perfect, but it is always driven by a sustainable approach.
We cultivate in harmony with nature
We try to keep our methods of cultivation as natural as possible. This is why we only work with biological feeds and additives. These products are also bee-friendly and ensure that we produce natural orchids. We have been certified for our natural method of cultivation.
We take care of our people
It is the people that make Stolk Flora a success. This is why we treat people the way that we would like to be treated. We want our staff to enjoy working for us, and make sure that everyone is given responsibilities and opportunities. As a responsible employer we take care of safety, health, and good working conditions.
We treasure our natural resources
We use water and electricity sparingly. During the summer we store heat underground which we use to heat the greenhouses during the winter. We also produce our own electricity in an efficient way. Every year we provide 3,000 homes in the neighbourhood with our leftover electricity. All rainwater used for growing plants is 100 per cent reused. Our residual flows are completely recycled: from plastic pots to organic waste.
Orchids cultivated with respect for nature will be more beautiful, as long as you allow them to grow just as they have done for centuries; the natural way! Stolk Flora believes in natural cultivation and we follow nature's way wherever we can. The result is the most beautiful orchids that nature has to offer.
On behalf of Jan the grower
Enjoy your natural orchid!
Jan Stolk