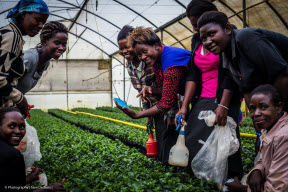 Xclusive
Proud of what we do
Xclusive is currently the second horticultural company in all of Africa with "MPS-Quality" status. We only produce propagating materials in Uganda, which means there are no final products in packages marked with a MPS logo on site. For our staff, MPS is not a quality mark at all: they see it as a manual that helps them in terms of structure, safety and training. For our customers, Dutch growers, the quality mark is a big advantage. For some customers, you could even say that MPS has become a "must".
Xclusive uses the MPS manual as a tool to develop procedures that keep all our people and processes operating as they should. Xclusive employs 700 local employees every day, many of whom have only had limited, if any, education. As such, Xclusives spends a lot of time and money on training sessions on subjects such as HIV, breast feeding, personal hygiene, family planning, domestic violence, malaria, etc. The MPS Health & Safety module is a great guide.
The company also teaches staff members how to interpret their pay slips. What are pensions? Why do I pay taxes? How can I save up money on a bank account? And don't forget the MPS training about employer and employee rights. MPS is literally "our license to operate". Both our customers and employees can reap the benefits. And that's what really matters.
Sjaak de Bloois, on behalf of Xclusive Uganda